We carry a wide range of gas and oil furnaces, air conditioners, air cleaners, thermostats, and Air Quality products…
Amana's Innovative, Cost-effective Systems
Providing outstanding standard limited warranty coverage is just one way of continuing the Amana brand's 70+-year promise to homeowners to build a product that Lasts and Lasts and Lasts®. Some of our air conditioners and heat pumps feature our most comprehensive limited warranty* coverage of any air conditioner or heat pump. They offer Lifetime Limited Warranty* protection for the compressor to the original, registered*, single-family, homeowner of a properly matched system using these high-efficiency air conditioners and heat pumps.
Aprilaire Indoor Air Quality Products
Aprilaire provides whole-home solutions essential to enhancing your comfort, health and home environments. When used together, these indoor air quality products set new standards for performance and reliability:
1- Automatic Humidifers
2- Air Cleaners
3- Electronic Thermostats
4- Zone Control systems
5- Ventilation
6- CO detectors
7- UV Air Treatment
8- Dehumidifiers
ClimateMaster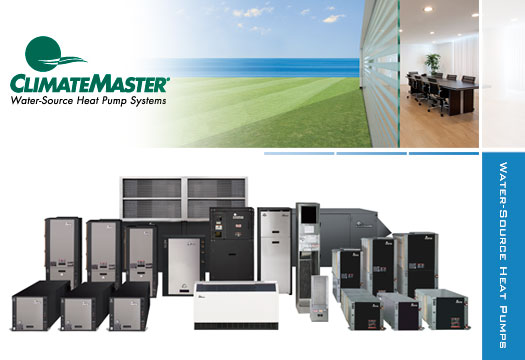 ClimateMaster is the world's largest and most progressive manufacturer of geothermal heat pumps. We are committed to innovation and dedicated to environmentally clean, economically sound and superbly comfortable home and business environments. Each ClimateMaster product is produced in our state-of-the-art facility utilizing quality management systems that are ISO 9001:2000 certified. We strive for the highest product quality and service after the sale to give you peace of mind.
An LSB Industries, Inc. company (NYSE: LXU), ClimateMaster has been designing and building equipment that enhances environments we live and work in every day for more than 50 years. In addition to geothermal heat pumps, ClimateMaster offers the most extensive product line of water source heat pumps for use in a wide variety of applications.
ClimateMaster products are built in the U.S.A.